Taixing yuan zhu town: accurate grasp of the project savings high quality development momentum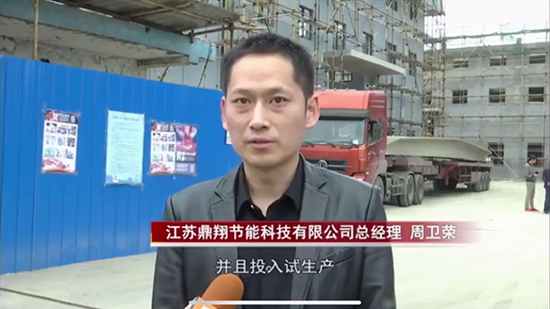 Taixing radio reporter interview jiangsu dingxiang energy saving technology co., LTD. General manager Mr. Zhou weirong
(Reporter: zhou bing Correspondent: hua yan)
On May 7, when the reporter arrived at jiangsu dingxiang energy saving technology co., ltd. in the town of yuanzhu, several cranes were capping the factory building. The project was built after the company invested 80 million yuan to buy houses and 30 mu of state-owned land from the bankrupt taixing weirong fashion co., LTD. "We will add 30 production lines of inlaying finned pipe machine, 25 production lines of other types of finned pipe machine and other production equipment, mainly engaged in the production and processing of condensing heat exchange equipment, with an annual output of 15,000 tons of various finned pipes. In early July, some of our equipment will be installed and put into trial production." Jiangsu dingxiang energy-saving technology co., LTD. General manager zhou weirong said.
Since this year, yuan bamboo town, firmly establish the concept of "project is king", put forward the construction of major projects as "steady growth", the important path to achieve rapid economic development, in the situation of shortage of the existing land indicators, the town in the project attract stage well selection, focus on the project per acre of make out an invoice, per acre tax, industry development, the safety problems of environmental protection, ensure good steel used in the blade, the admittance of good projects. At the same time, focus on construction projects and building progress of the project, to strengthen guidance and supporting services of the project, understanding enterprise actual situation, listed service list, will be responsible to the specific department, specific personnel, inverted schedule, reversed transmission in progress, ensure construction projects built early, early, early starts, and construction projects that is to be built.
"At present, we are stepping up efforts to revitalize idle assets. We have successfully revitalized the idle resources of about 140 mu in 4 closed enterprises, such as yuanjintong casting, weirong fashion, lantianrun and heming. Four projects are under construction, and the activation of idle assets has provided a guarantee for the project recruitment." Yuan bamboo town deputy mayor Qian Dehong is introduced, and the next phase, the town on the one hand, closely around the whole town industry positioning and development direction, lists the "project", draw a "road map", "schedule", listed the current in the project information to conduct a comprehensive combing, an enterprise strategy, one by one, and strive to introduce several big volume, quality excellent, in line with the industrial policy high quality project. On the other hand, further strengthening the construction of industrial cluster areas, strengthen the park gathered function, enhance the accumulation effect, play a tin China casting, radiating and driving play of sa casting enterprises, attracting leading enterprise, supporting enterprise, effectively to business investment, to ensure that new signing during the first half of 10 million yuan of above four projects, three new projects.
联系我们
地 址:江苏省泰兴市元竹镇工业集聚区兴园西路2号